I have been training with Carlos Martin at Bay Area Trainers for about three months and the results are nothing short of amazing. I feel stronger, my endurance has increased, I can *see* my body changing, my blood pressure and sleep apnea are both improving. But the changes aren't only physical. Since starting this program, my mental clarity, stamina, and ability to focus have improved dramatically. One of the things we talked about at the very beginning was the mind-body connection and the positive effects of physical fitness on mental wellness. It's hard to overstate just how much better I feel, mentally, emotionally, and physically. At 46 years old I feel better now than I have at any point in the last 10 years. On top of all that, Carlos is positively fantastic to be working with. His boundless positive energy will keep you motivated even through the toughest of workouts (which he can and does deliver). He's highly knowledgable, passionate, and takes a genuine interest in his client's success. The entire staff is friendly and welcoming, and I'm always looking forward to my next session. I'm excited by what the next three months will bring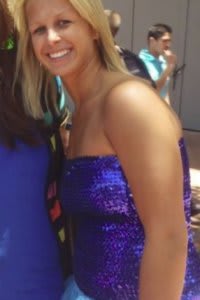 I have always been active, growing up an athlete. I have done everything from going to the gym day in and day out, trying workout videos like Insanity and varying up the workouts with hikes and outdoor exercise. Sticking to working out has never been a problem but getting bored with workouts was. Then I found BayArea Trainer bootcamps and decided to try it out. Since day one, I have not been bored with any workout that Devin has given us and I look forward to the next days workout. If you are looking for great trainers, a positive, encouraging workout environment and ever changing routines this is the place to come. I love it!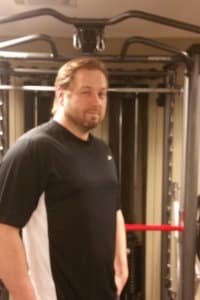 "I've Lost Over 30 Lbs, Almost 10% Body Fat"
I've been working out with Dean for slightly over a year now. I initially intended only to go for one session, but having Dean as a personal trainer has been so rewarding and non-gym-like that I wasn't ready to give it up.
Dean's workouts are never dull. They're never the same thing week over week, and he targets individual areas based on what you want to do. He spends time making sure you are careful of something if you feel a twinge and will change your workout on the fly if you think you're nervous about an injury. Not to mention that he's certified in corrective exercises, so he can help you build up strength around a weak point so you aren't injured when trying to recover.
I've lost over 30 lbs, almost 10% body fat, and went from a size 40 to a 34 waist in the year I've been working out with Dean, and I haven't even done all the things I could have, like cut out alcohol and give up things like pasta and fast food entirely. He encourages you without being nagging about it, and never disparages you or looks down on you. He always has something positive to say and notices your improvements and celebrates them with you.
"I Lost 10 Pounds And Got In The Best Shape Of My Life"
Dean is great and will get you amazing results! This review is way long overdue as I used him in 2007 before he had his own gym at the current Martinez location. Not only was I paying for a 24 Hour Fitness monthly membership but I also had to pay for a membership where Dean would train, but that no longer applies as the hourly fee is included with the current gym location in Martinez. So today's pricing is better overall!
I always paid 2 months in advance and that forced me to commit to the training as well as offering a better per hourly deal.
After 10 months of training with Dean, I lost 10 pounds and got in the best shape of my life. I actually had 'side abs! I trained with Dean 3 days a week and played soccer on Sundays while still enjoying my regular Coca Cola and chocolate nearly every day…. I was still able to lose the weight. Had I been able to increase my cardio another day per week and reduced my sugar intake, my results would have been sooner.
Dean will give you a before and after body fat test, an overall analysis, as well as give you nutritional recipes to try while you're training to give you faster results.
Bay Area Trainer works!!!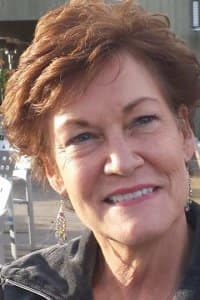 "I Have Been Training With Dean For Over 5 Years"
I have been training with Dean for over 5 years. It's never boring and I appreciate that Dean is a nationally certified trainer. Some of the "trainers" at the gym have obviously not taken classes. I want to do the exercises correctly and not get injured! Dean is very motivational and I am so glad he's been my trainer for so long!

Love this place! They have kept me motivated and pushed me further than I thought I could go! Love the seeing the results! I cannot say enough about the staff here, they are amazing!

Nice and clean private personal training studio with great boot camp classes! The classes are fun and you will definitely will work a great sweat! Dean is an awesome trainer. He is great with clients in developing a both workout program and nutritional meal plan for them that produced great results!

I have to admit I was hesitant to hire a personal trainer since I'm one of those know-it-all. I "knew" how to work out and have a gym membership. The sad reality was, I didn't go to the gym and I had that membership for years. Insanity is... I finally decided that enough was enough! I'm not getting any younger and I want to see my body in shape! Wow, was I in for a surprise! Dean tailored my workouts perfect, they are fun and I've lost already 4.5 pounds in 2 weeks. Can't wait to see how my body transforms!!! Thank you Dean!

"Best Trainer In The Area!"
I recently signed up for the 36-session package to get the best rate and have to say I have no regrets in doing so.
I am currently on the fifth week with Dean, who is a knowledgeable, motivational and understanding personal trainer. He is absolutely fantastic to work with not only because of his training knowledge and personality but also his lifestyle guidance to achieve the best fitness result.
Best trainer in the area!

"...YES I Have Kept The Weight OFF!"
Dean is fantastic! I have been a bit over weight all my life. I have had other trainers but none compare to him! He is patient and he really listens to your concerns and can answer all your questions. He makes you feel really comfortable and is MOTIVATING! He has kept me motivated through the years and YES I have kept the weight OFF! Dean is affordable and when you are dealing with your health you need the BEST! Thank You DEAN!

"I Feel & Look Better At 59 Than I Have In Many Years"
Dean is an exceptional trainer. I've worked with him for about a year and a half and it's helped me in many ways. I have arthritis, tendinitis and other issues due to a lifetime of being overweight. Dean is great about keeping me motivated and helping me work around my pain issues. He pushes me but is always respectful of my limitations, something other trainers I had in the past did not do (and I would end up injured). My strength, flexibility, stamina and balance have all improved greatly. I feel & look better at 59 than i have in many years. His knowledge and support are top notch and he keeps workouts fresh & interesting so I never get bored.

"Cannot Endorse This Program Enough!"
Devin is a fantastic group trainer who has a talent for devising interesting workouts suitable for all fitness levels. He takes care to correct your form so that you remain safe and also get the most out of each exercise. The modified exercises for beginners are very challenging for me and I always feel as though I've accomplished something meaningful in the pursuit of good health at the end of each session. Cannot endorse this program enough!